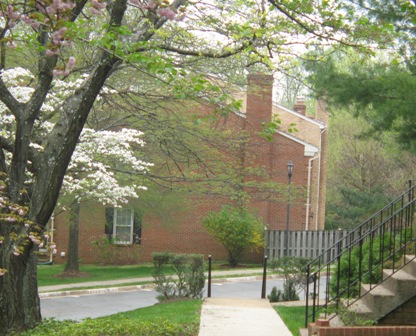 Frequently Asked Questions
Q: When do I need to submit an Architectural Improvement Request Form?
A: Anytime you wish to change or maintain an exterior element of your home. Examples of exterior elements include trim and accent colors, roof materials, address blocks ... You get the idea. It's always better to submit a form up front than to find out later you have to restore your unapproved change to its original condition.
Q: How do I request an Association Disclosure Packet?
A: Just email the Board and we'll send one to you within 14 days. The fee for a disclosure packet is currently being waived since we are self-managed and prepare them ourselves.
Q: Where do I mail my dues payments?
A: The payment address to mail a check is:
Churchill Square Association, Inc.
c/o United Bank
P.O. Box 220209
Chantilly, Virginia 20153
Q: When and how often is trash picked up?
A: Garbage and Recycling is picked up every Friday morning. Trash cans can not be put out on the street before 4:30 PM on Thursday and trash cans need to be brought back into the residence's house or backyard by 4:30 PM on Saturday at the latest. Otherwise the homeowner will be charged a $50 trash resolution fee.
Q: I have some large items, how do I dispose of them?
A: If you have an oversized trash pick up, you need to contact the Fairfax County for scheduling, (703) 802-3322 and listen for the appropriate prompt.
Q: My Fairfax County wheeled trash can or recycling bin is worn out or missing, how do I request a new one from the county?
A: Contact the Fairfax County at (703) 802-3322 and listen for the appropriate prompt.
Q: How do I report something in the community that needs to be repaired?
A: Just email the Board and we'll investigate the issue and schedule appropriate action.
Q: How do I report criminal or suspicious behavior in the community?
A: Generally you call the Fairfax County police department non-emergency number, (703) 691-2131. In the case of an emergency, you dial 911.
Q: Can I attend a Board of Directors meeting?
A: Yes, they're open to all homeowners. Just check the "Calendar" page for time and location.
Q: Why did the lawn crew skip the hill near my house?
A: Usually this happens because the grass or ground is too wet to safely mow the area. In that case we just have to be patient until they're back under better weather conditions. However, sometimes they do simply overlook an area. If you think that's what's happened, please email the Board so we can bring it to their attention.
Q: Are we responsible for mowing our own front and back lawns?
A: Our HOA dues pay for mowing the front lawns only - sorry no backyards. You're responsible for maintaining bushes, plants and retaining walls in the front as well.
Q: What if my lawn has a disease or needs to be re-sod?
A: Again, that's the homeowner's responsibility, not Churchill Square's.